Transport China
Our experienced Chinese staff is familiar with the market, logistic solutions and possibilities as well as, of course, speaking the local language.
Do you want to import, need different terminal services, wish to ship by sea; FCL, LCL, air freight, or rail freight, get in contact with us.
Freight from China
sea freight; deep-sea standard services, with a high level of personal services and user-friendly system to follow up all your shipments and orders

air freight; when it is urgent, by air is the fastest way of delivery

Logistics in China
storage and logistics; cross-docking, labeling, scanning, pick and pack, consolidation, short-term storage - all in the Far East

Rail freight from China
rail freight; rail service from China to Europe, with multiple departures per week, transit time between 15-24 days depending on destination

Norway - T/T 21 days

Sweden - T/T 22 days

Denmark - T/T 22 days

Finland - T/T 22 days

Lithuania/ the Baltics - T/T 15 days

Hungary - T/T 18 days

Italy - T/T 23 days

Turkey - T/T 24 days
Multimodal transport from China
multimodal; combining various modes of transport under one assignment in order to improve the supply chain
eCommerce from China
cross-border eCommerce; transactions have increased dramatically, and cross-border e-commerce has become a mainstream model
Special services from China
specialist services; quality control at the production site and vendor management
Rail map China - Europe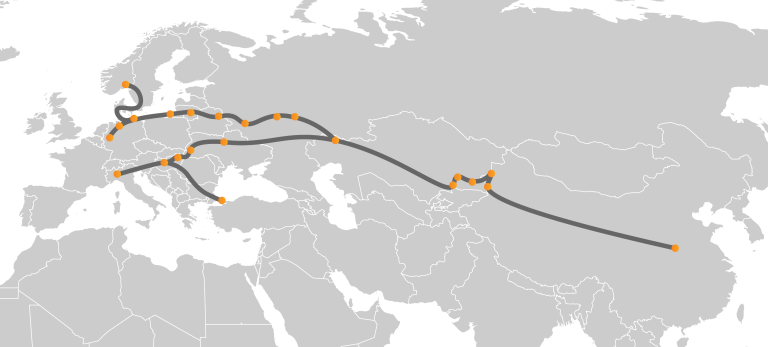 China focuses on complete solutions, from manufacturer to end-user
Our customers are importers, exporters, and industries in need of logistics services, especially in Scandinavia, Europe, and Asia.
We experience that the local presence of our employees with expertise in logistics, who are familiar with the markets and speaks the local languages, greatly benefits our customers in the Asian markets.

Our departments in China are located in

Groupage in China, 0-2500 kg, China
Consignments shipped as groupage will be picked up and delivered by drivers with local knowledge.

Part loads in China, + 2500 kg, China
Direct delivery or via terminal.
From China we transport goods like
part loads

full container, FCL

less than container, LCL

ADR, dangerous goods

special goods

bulk material

sand, gravel

soil, agricultural products

tiles, wood material

industrial waste/waste
Additional services in China
cross docking

labeling and packing

storage

custom clearance

logistics consultants

offshore and projects

EDIElectronic Data Interchange
Electronic Data Interchange between computer systems, integrations
ColliCare Logistics China offers
weekly or daily transport to Norway by sea, by rail or by air

consolidation & cross-docking services

terminals in Shanghai, Ningbo, Xiamen, Shenzhen(Yantian) and HongKong;

online tracking of all shipments

booking via EDI, web, e-mail or simply by telephone

professional customer service and quality reports
Green, standard, express deliveries
Green
Green, reducing logistics-related carbon footprint, cost-efficient and reliable routes within Europe and Asia. Our solutions for a greener supply chain presents the potential for additional savings and have a positive impact on your brand.
Standard
Standard, ColliCare standard freight solutions such as LTL (less than truck load), FTL (full truck load) shipments to ADRDangerous Goods by Road (ADR)
Goods that can do harm to people or the environment and temperature-controlled transports.
Express
Express, time-critical delivery. Range of highly flexible express freight services with affordable costs, time-definite solutions that you and your customers can count on.
Customs in China
Comprehensive customs and tax regulations and time-consuming processes often make import and export demanding. We are specialised in customs management, with good customs procedures and help you with
general customs clearance

imported goods

exported goods

custom clearance documentation
Customer service in China
Opening hours 09-18, dedicated employees supporting you by phone and email.

Postal code overview for China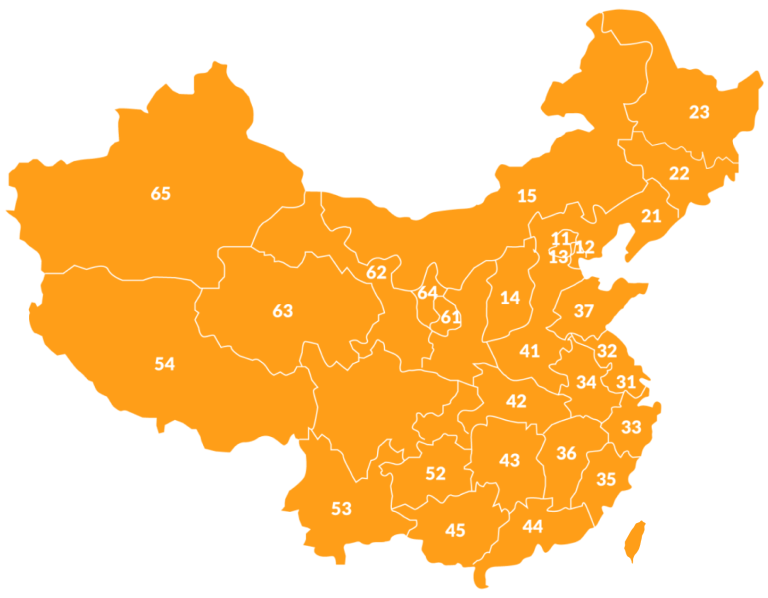 Holidays in China
| | |
| --- | --- |
| 1 Jan to 3 Jan | New year Holiday |
| 11 Feb to 17 Feb | Spring Festival (Chinese New Year holiday) |
| 3 Apr to 5 Apr | Ching Ming Festival |
| 1 May to 5 May | Labor Day Holidays |
| 12 Jun to 14 Jun | Dragon Boat Festival |
| 19 Sep to 21 Sep | Mid-Autumn Festival |
| 1 Oct to 7 Oct | National Day Holiday |
Rates for transport from and to China
How much does freight transport from China cost? Request a quote at ColliCare Logistics without obligation.