Logistics in Italy
Our ColliCare department in Modena ensures local knowledge and language understanding. ColliCare Italy specialises in rail freight, which is Italy's most important infrastructure. We can offer several direct lines within Europe. Good logistics setups for general cargo and bulkCommodity cargo that is transported unpackaged in large quantities
It refers to material in either liquid or granular, particulate form, as a mass of relatively small solids, such as petroleum/crude oil, grain, coal, or gravel. cargo, FTLFull Truck Load
Truck fully loaded with goods, LTL (less than truckload) distribution solutions and multimodal transport.
Let us help you with a complete solution for the entire flow of goods, from manufacturer to end-user.
Head office in Norway and own offices in Sweden, Denmark, Finland, the Netherlands, Lithuania, Italy, Turkey, China, and India.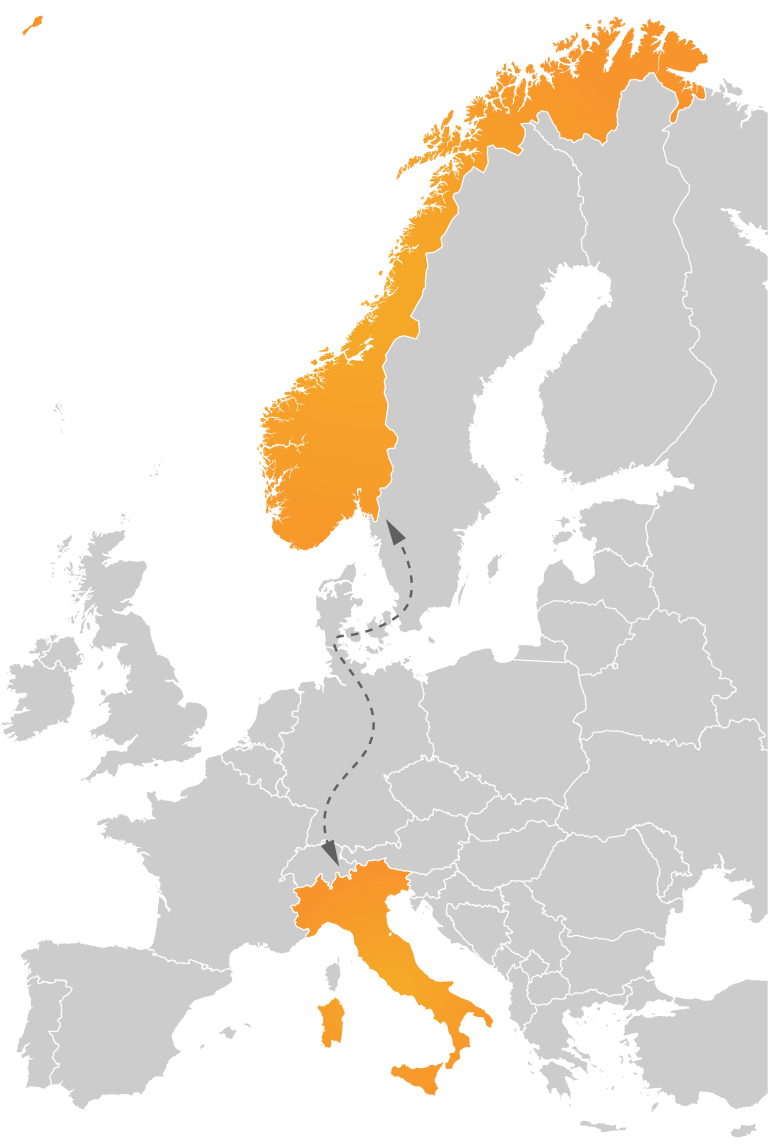 Transit times to Italy
Rail freight Italy
weekly departures

direct line from Parma departing every Saturday morning and arriving at Rolvsøy outside Fredrikstad at 06:00 AM on Monday morning

Road freight Italy
daily departures on a fixed route

all major cities in Italy and Norway = collection and delivery from anywhere in Italy to Norway, or vice versa, with fixed delivery times

FTL: daily departures. 2 days transit time from central Italy to central parts of Eastern Norway

LTL/batch and general cargo: departure Tuesday and Friday. 3-4 days lead time, depending on final delivery address

Sea freight Italy
FCLFull Container Load
Full container load via route to Oslo/Kristiansand

lead time : 5-7 days

Air freight Italy
own aviation departments in both Norway and Italy that deliver whenever you want

Multimodal
we put together the most favorable modes of transport for your goods

Terminals
distribution terminals several places in Norway

Groupage, 0-2500 kg, Italy
Consignments shipped as groupage will be picked up and delivered by drivers with local knowledge.

Part loads, + 250 kg, Italy
Direct delivery or via terminal
Goods we transport in Italy
groupage

part loads

full truck or container, FTL, FCL

less than truckloads, LTL, LCL

ADR, dangerous goods

special goods
Additional services in Italy
labeling and packing

storage

Walking floor

custom clearance

logistic consultants

offshore

EDIElectronic Data Interchange
Electronic Data Interchange between computer systems, integrations
Green, standard, express deliveries
Green
Green, reducing logistics-related carbon footprint, cost-efficient and reliable routes within Europe and Asia. Our solutions for a greener supply chain presents the potential for additional savings and have a positive impact on your brand.
Standard
Standard, ColliCare standard freight solutions such as LTL (less than truck load), FTL (full truck load) shipments to ADRDangerous Goods by Road (ADR)
Goods that can do harm to people or the environment and temperature-controlled transports.
Express
Express, time-critical delivery. Range of highly flexible express freight services with affordable costs, time-definite solutions that you and your customers can count on.
Italy
Maximum weight for vehicles is 24 tons (28 tons per station wagon)
In the Styria district, both freight transport heavier than 7.5 tonnes is prohibited and a lower EURO standard than 4.
In the Vienna region, an environmental sticker and a driving ban for lorries in the low EURO classes 1 and 2 are mandatory.

Transport services in Italy

Rail terminal at Rolvsøy, Fredrikstad
flexible loading at the terminal

the goods can be stored for the agreed collection

easy redistribution in Norway and Sweden

Dangerous goods, ADR, in Italy
There are driving restrictions and various restrictions for ADR transport, for tunnels and bridges in Austria.

Customs in Italy
Comprehensive customs and tax regulations and time-consuming processes often make import and export demanding. We are specialised in customs management, with good customs procedures and help you with
general customs clearance

imported goods

exported goods

custom clearance documentation

cash and daily settlements

Customer service in Italy
Opening hours 08-17, dedicated employees supporting you by phone, mail, or chat.

Driving bans in Italy
No official driving bans.

Postal code overview for Italy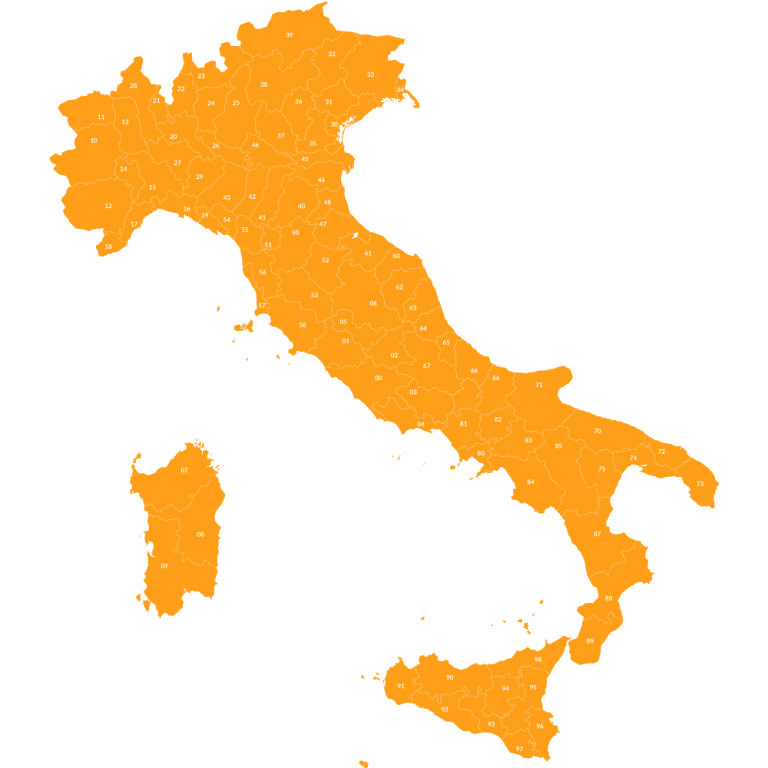 Holidays in Italy
January
1st of January - New Year`s Day
6st of January - Epiphany
April
Easter - date may vary
25th of April - Freedom Day
June
2nd of June - Republic Day
August
15th of August - Assumption Day
November
1st of November - All Saints Day
December
8th of December - Mary Day
25th and 26th of December - Christmas Holiday
Rates for transport to Italy
How much does freight transport to teh Italy cost? Request a quote below quickly and without obligation.