Transport and logistics Pakistan
Transport to/from Pakistan
We offer frequent exports from Pakistan to Scandinavia in cooperation with a strong agent network in Pakistan that closely follows up the shipments, allowing us to offer good freight solutions.

Logistics offers Pakistan
full Container Load (FCL)

less-than Container Load (LCL)

temporary storage of goods

repackaging of goods

pick-up/delivery on time

pick-up/Delivery by lift truck

weekly scheduled departures

handling of customs-related documents

general cargo and bulk goods

special goods

ADR, dangerous goods

Customs in Pakistan
Complex customs and tax regulations together with time-consuming processes often make import and export demanding. We are specialised in customs management, with good customs procedures and will help you with
general customs clearance

imported goods

exported goods

custom clearance documentation

cash and daily settlements

We focus on complete solutions, from manufacturer to end-user
We offer smooth end-to-end solutions to exporters, importers, and manufacturers looking to export and import goods between Bangladesh and Europe. We are headquartered in Norway with our own offices in India, China, Sweden, Denmark, Finland, the Netherlands, Lithuania, Italy, and Turkey.

Solutions adapted to your needs
Sea Freight
Perhaps the most environmentally friendly mode of transport?
We can help you organise sea freight regardless of destination: container transport, FCL, LCL, green transport.
Air Freight
Since air freight is the fastest route to get your shipment to its destination hence in case of urgent shipments or emergencies, we arrange air freight for the shipment.

How do we do it?
direct shipment to EU
Mostly, when goods are sent using a carrier that takes a direct route to the port of discharge in Europe, the port of departure is from Pakistan itself, mostly the main port - Chittagong Port. We offer direct routes to Gothenburg, Sweden, and Oslo, Norway, often the quickest way shipping goods to Europe.

indirect Shipment/ Transhipment
If your goods are boarded in a feeder ship in Pakistan; in such a case, the goods are transported into main vessel and routing happens via Colombo, Sri Lanka.

Transit times
Depending on whether the shipment is direct or indirect, the transit times vary.
Direct Shipment
32 days, depending on location
Indirect Shipment/Transhipment
37 days, depending on the route taken and the location
Customer service in Pakistan
Opening hours 09:30 hrs. - 18:00 hrs., dedicated employees supporting you by phone, mail, or chat.

Post-Code Map for Pakistan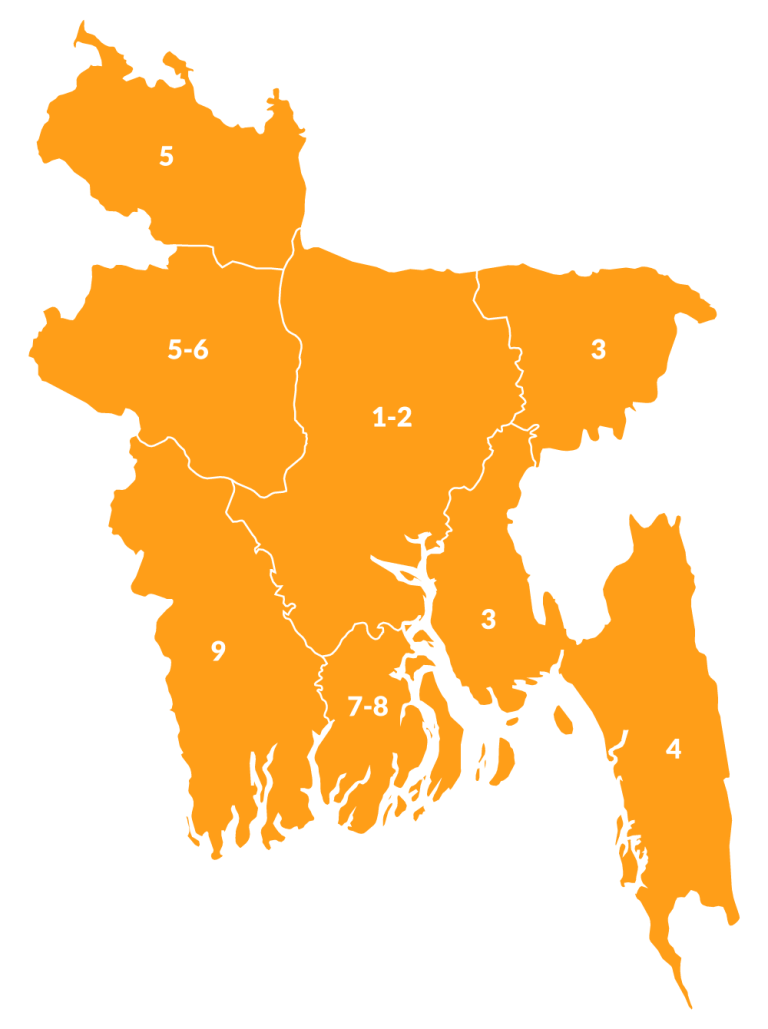 Green, standard, express deliveries
Green Freight
Adapting to changes within the environment and climate is becoming a demand from our customers and manufacturers all over the world. Hence, we would like to offer you greener freight alternatives.
Standard Freight
We will customise the transport and logistical solutions to fit your needs, collect your goods at loading place, send them with first possible departure, and deliver to unloading address.
Express Freight
To offer better and faster services - regardless of whether it is complete loads (FCL), part loads (LCL) or small shipments or documents – we will quickly offer you the fastest mode of transport by road, rail or air freight!
February
5th February: Kashmir Solidarity Day
March
23rd March: Pakistan Day
25th March: Pakistan Day
May
1st May: Labor Day
10th May - 15th May: Eid-al-Fitr
July
20th July - 22nd July: Eid-ul-Adha
August
14th August: Independence Day of Pakistan
18th -19th August: Ashura
October
18th October - 19th October: Prophet's Birthday
December
25th December: Christmas
25th December: Quaid-e-Azam's Birthday

Rates for transport from and to Pakistan
How much does freight transport to/from Pakistan cost? Request a quote at ColliCare Logistics without obligation.