Spain is located on the Iberian Peninsula of Europe and comprises of diverse geography and cultures.
Let us transport your goods from and to Spain.
Part loads (LTL), project shipments, full loads (FTL), special goods, temperature-regulated goods or ADR goods - we find a solution that meets your transport requirements in Spain.
ColliCare Logistics offers:
Consignment goods, general cargo, special goods, temperature regulated goods or ADR goods - we will find a solution fulfilling the logistic requirement to Spain.
general cargo, LTL, LCL; consignments with a weight limit up to 2500 kg freight calculation per consignment

part loads; consignments weighted from 2500 kg freight calculation per consignment and upwards

full truck or container, FTL, FCL

special goods

ADR Goods
Additional Services offered:
tailgate truck delivery

speed freight, express shipment

urgent transport

transport of dangerous goods (ADR)

ColliCare customs office in Spain

Project cargo / Bulk / Break-bulk
Customs
Comprehensive customs and tax regulations and time-consuming processes often make import and export demanding. We are specialised in customs management, with good customs procedures and help you with
general customs clearance

imported goods

exported goods

custom clearance documentation

cash and daily settlements
Solutions adapted to your need
Road freight
If it is urgent to get the goods home, we pick them up directly with one of our cars and drive straight to the recipient.
Sea Freight
The most environmentally friendly mode of transport.
Air Freight
Since air freight is the fastest route to get your shipment to its destination hence in case of urgent shipments or emergencies, we arrange air freight for the shipment.
Multimodal
The advantage of combining freight solutions is that we find the most efficient combination of various modes of transport.
Groupage, 0-2500 kg
Groupage shipments (0-2500 kg) in our network in Spain are collected and delivered by local employees.

Part loads, + 250 kg
LTL (less than truck load) transport on Spain (+ 2500 kg) direct delivery or via a terminal. Special pick-up and delivery.
Terminals
Distribution terminals in Scandinavia, with access to distribution networks in all of the Nordic countries.
Green, standard, express deliveries
Green Freight
Adapting to changes within the environment and climate is becoming a demand from our customers and manufacturers all over the world. Hence, we would like to offer you greener freight alternatives.
Standard Freight
We will customise the transport and logistical solutions to fit your needs, collect your goods at loading place, send them with first possible departure, and deliver to unloading address.
Express Freight
To offer better and faster services - regardless of whether it is complete loads (FCL), part loads (LCL) or small shipments or documents – we will quickly offer you the fastest mode of transport by road, rail or air freight!
Several favourable transport options for Spain via Moerdijk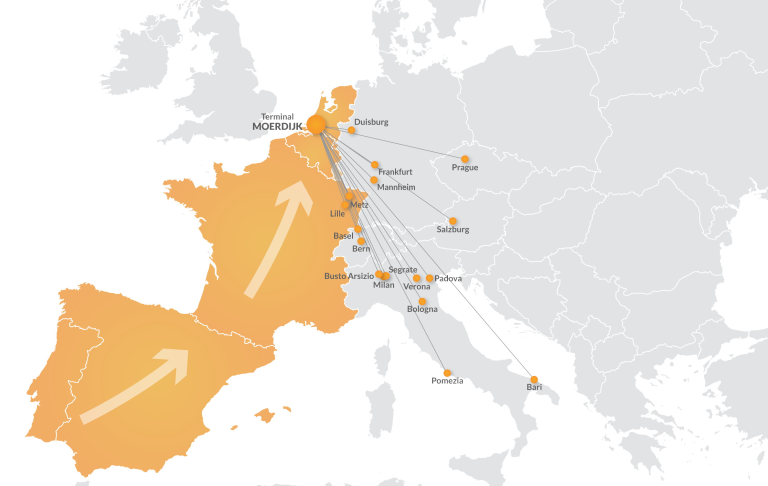 Traffic in Spain
No official driving bans.
Holidays in Spain
Your transport to Spain can be affected by the local holidays.
This is an overview of the holidays in Spain:
January
1st January: New Years' Day
6th January: Holy Trinity Day
October
12th October: Spain's National Day/Columbus Day
November
1st November: All Saints' Day
December
6th December: Spanish Constitution Day
8th December: Immaculate Conception
25th December: Christmas
Customer Service
Opening hours 08:00 hrs. - 17:00 hrs., dedicated employees supporting you by phone, mail, or chat.