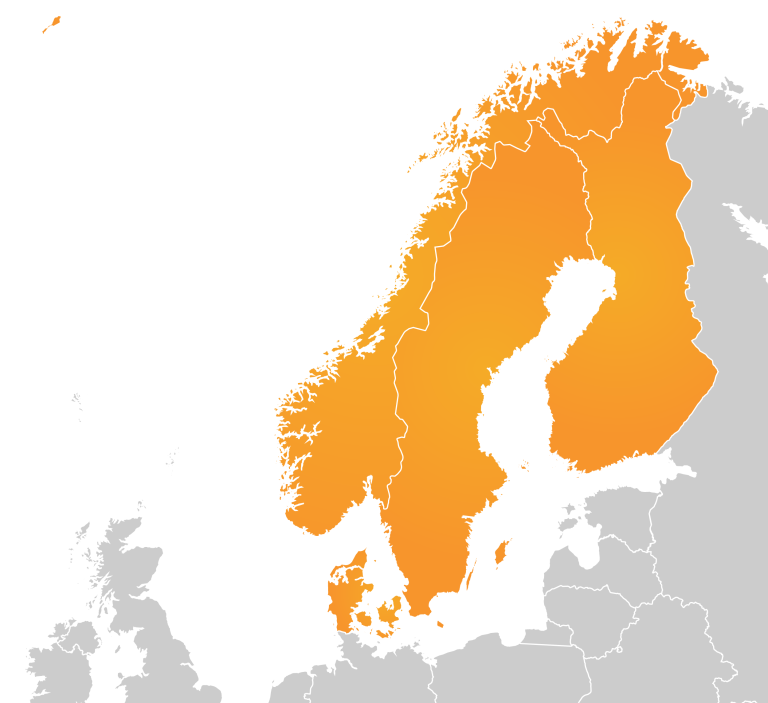 Transport and distribution within Nordic
Freight and distribution easily accessible throughout Scandinavia/the Nordics. Regular schedules between major transport hubs, direct transport across countries + local distribution, covers the Scandinavian/Nordic countries.
Daily departures to Denmark, Finland, Norway, and Sweden, entry and exit, groupage (FTL), part loads (LTL), and handling of customs-related documents - easily and efficiently.
freight between the Scandinavian countries

local distribution within the country


Transport of goods types in the Nordics
general cargo and bulkCommodity cargo that is transported unpackaged in large quantities
It refers to material in either liquid or granular, particulate form, as a mass of relatively small solids, such as petroleum/crude oil, grain, coal, or gravel. cargo

temporary storage of goods

repackaging of goods

pick-up/delivery on time

pick-up/delivery by crane truck

pick-up/delivery in the evening/night
Nordic distribution set-up
distribution between and within the Nordic countries
direct distribution

InNight express services – deliveries before the working day starts

home deliveries – B2C

daily follow-up for quality check

bookings via EDI, email, web, or phone

Additional services in the Nordics
storage

automated storage and retrieval system

Walking floor

custom clearance

logistics consultants

offshore and projects

EDI, integrations
Rates for transport to the Nordics
How much does freight transport to teh Nordics cost? Request a quote below quickly and without obligation.